2001年9月29日 第7回国際PAF学会 (PLM 2001) 終わる
9月24日(月)-27日(木)、早稲田大学国際会議場で、PLM2001が開催された。テロ直後と言うこともあり、開催延期も考慮されたが、最終的には米国から13名の招待講演者がキャンセルした以外は予想を上回る参加があり、合計250名を越す参加者により100題を越える演題が発表された。教室からの応募者は全て口演を希望し、希望がかなったため、相当リハーサルに苦労したが、苦労しただけのこともあり、院生なども初舞台しかも国際会議で立派に発表を行った。演題は次の通りである。
S. Ishii (invited) : A transgenic approach for understanding roles of PAF receptor in vivo.
S.M. Tokuoka: Platelet-activating factor and its receptor on neuronal migration.
N. Ohshima; Receptor-dependent metabolism of PAF by macrophages.
T. Shimizu (invited); Cytosolic phospholipase A2 and related molecules in the brain.
T. Yokomizo (invited); BLT1 and BLT2, distinct leukotriene B4 receptors.
H. Ogasawara; Characterization of two cysteinyl leukotriene receptors (CysLT1 and CysLT2) from mouse.
T. Hirabayashi; Cysteinyl leukotrienes activate microglia through the CysLT1 receptor.
N. Uozumi (invited) Roles of cytosolic phospholipase A2 in vivo.
Y. Iizuka; Cloning and characterization of a murine second leukotriene B4 receptor, BLT2.
この他に共同研究者(田渕、大日方、花香)がポスター発表した。何よりも若いうちに英語で口頭発表できることの意味は大きく、また、多くの国内外研究者と交流を深め、共同研究のプランを立てた3日間であった。なお、会議の最終日に清水が次の様な内容のConcluding Remarksを行った。
Concluding Remarks by T. Shimizu
Dear friends. Before closing the meeting, I had a few words to say. It is almost impossible to draw one conclusion from more than 100 nice presentation. It is, however, easy in a sense, to conclude that we are convinced that only good science makes a good conference. I was also personally very impressed with many high-quality and updated data presented in the last three days. Because of the high quality of science in this field, and many wishes to continue the conference, the organizing committee has decided to have the 8th conference in either in Italy or Australia in 2004, which will be shortly announced. Lastly but not least, I would like to thank Dr. Waku and Inoue for organizing the conference, and especially thank to Dr. T. Sugiura, A. Yamashita, S. Kishimoto and colleagues of Dr. Waku's laboratory. Without the help of these colleagues, the conference would never have been so successful.
I wish you more success in the science, and safe trip home, and we all wish the piece of the world. Good bye and see you in 2004.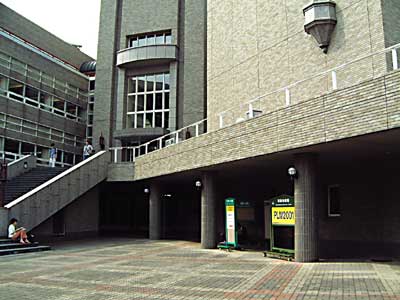 会場の早稲田国際会議場

夕食会で
左からDr. Hanahan (PAF発見者)、牧野教授、和久教授(会頭 )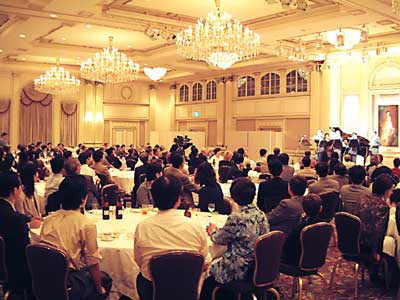 大会3日目に開かれた懇親会
トランペットの演奏が見事だった。